Community of Saint John ~ New York City
Links
This page is very limited; it is under construction. It was last updated on 21 October 2010. Please visit again.
Further Contacts
Here is the web page for the Orthodox-Catholic Church of America. Our ministry began in the 1880s, with establishment as the North American archdiocese of the Syriac Patriarchate of Antioch in 1892. We became self-governing in 1910.
Here is the web site for the Saint John of Kronstadt Centre, which was established in New York City in 1998 and serves as the administrative center for the Diocese of New York and the Atlantic Coast.
For the past several years, Reverend Mother Francesca's ministry has included officiating at weddings throughout the Metropolitan New York area. Please visit her page at the link above.
Since 1982, Axios NYC has been a voice for Eastern and Orthodox LGBT Christians, their families, friends, and allies.
Axios is the Greek word for 'worthy.' Meetings are ordinarily held in the LGBT Community Center in the West Village.
www.gaychurch.org is a web site dedicated to ministering to the gay and lesbian Christian community (GLBT) and to the friends of our community. The site features one of the largest gay Christian bulletin boards and gay "welcoming" Christian church directories in the world. The site includes a large section of articles dedicated to helping a gay person reconcile their faith with their sexual orientation and a web magazine with articles on a wide range of subjects. Articles and features are offered in English as well as Spanish. In addition there is an online art gallery which meditatively focuses on various scriptures in the Bible. Check the site often as new material is added on an almost daily basis.
WelcomingChurches.com is a new resource for churches, church staff, and Christians around the country who believe that the Body of Christ should be known for welcoming everyone just as Christ did. Their web site contains a national directory of LGBT-friendly congregations.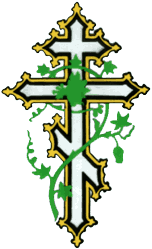 More Links
Founded by Father Archimandrite Eusebius A. Stephanou, Th.D., the fellowship exists to restore the gifts found in Charismatic/Pentecostal Renewal to historic Orthodoxy. Their centre is in Miramar Beach, on Florida's Gulf Coast. Visit the web site at www.stsymeon.org.
One of the most visited hubs on the Internet, reaching one out of every two Web users.
With over half a million sites, divided into more than 25,000 categories, Yahoo! is both browseable and searchable.
Inclusive Orthodoxy provides a great number of links as well as resources related to the development and networking of inclusive and affirming congregations.